Saving Lives with Immediate Care at PSRI's Emergency Unit
Sudden illness or injury may come uninvited, asking for immediate emergency care. In most emergency care cases like a road accident, brain injury, stroke, cardiac emergency, poisoning, fire injury, household fall or electric shock, you need urgent and accurate diagnosis followed by quick and appropriate treatment.
During all medical and surgical emergency cases, you can rely on PSRI Hospital's Emergency department for immediate diagnosis and treatment with quality care. The hospital's emergency department is available 24×7 round the year for handling all kinds of emergency and critical care cases.
The department is well-equipped and managed by highly experienced and competent physicians for urgent care during:
Road traffic accident
Cardiac emergency
Brain or stroke emergency
Neuro emergency
Household fall due to low blood pressure or excessive stress, etc.
Trauma emergency
Electric shock emergency
Orthopaedic emergency like fracture, knee dislocation, etc.
Poisoning emergency
Drug reaction
Any surgical and medical emergency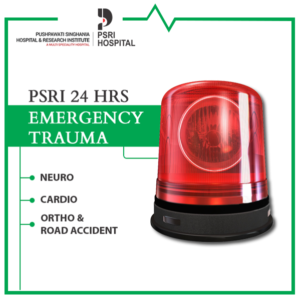 Along with experienced physicians and critical care experts, PSRI Hospital's emergency services are backed by renowned specialists for advanced neurology, nephrology, cardiology, orthopaedics, medical and surgical gastroenterology, physiotherapy and kidney and liver transplant units.
The emergency department is powered by state-of-the-art infrastructure and the latest equipment for advanced care. This includes:
Advanced life support ambulance service
Round the clock lab and pharmacy services
24×7 DSA or neurology interventional facility
Radiology unit with the most advanced CT scan and MRI machines along with x-ray and ultrasound facility
Dedicated segment for critically ill patients
Plaster room
Dedicated area for wound care
Multi-channel monitoring units
Ventilators
Bedside haemodialysis facility
Syringe and volumetric pumps
For the convenience of emergency care patients and their families, reception, help desk and billing desk have been arranged on the same floor.
PSRI Hospital provides round the clock ambulance services on a call. You can call the 24 hours helpline number: 011-30611700 for a well-equipped advanced life support ambulance. In case of cardiac emergency, the hospital also provides air ambulance support through a dedicated cardiac helpline.
Healthcare experts at PSRI Hospital are just a call away! Seek immediate medical help by calling the 24 hours helpline numbers: 011-30611700, +91-9582261515
For more information about our emergency services, visit http://www.psrihospital.com/emergency
---